I hosted a bridal shower this weekend. It was a smashing success, if I do say so. For anyone interested, there are two secrets to a good bridal shower. One: Have lots of food and desserts. (Seventeen separate delicious pasta entrees, ice cream sundaes, and three different kinds of homemade biscotti, in this case.) (I should note that I provided the ice cream and sangria, the bride's very Italian family provided the rest.) (Three different kinds of biscotti! Homemade biscotti! Three kinds!) Two: Play Shower Bingo, and
no other games.
For Shower Bingo, you provide each guest with a blank bingo grid and a pen, and they fill in the boxes with gifts they think the bride will receive. Then as the gifts are opened, the guest check off their bingo sheets and when they get five in a row, they win! But make sure you have some prizes to hand out, or winning is anticlimactic. And to answer your question, you are absolutely allowed to fill in the gifts you yourself brought. (At my family showers, my cousins always win Shower Bingo because there are seven of them in one family and they all know each others' gifts. They are also the ones who taught me the game. Coincidence?)
Now I say to play no other games because, in my experience as a cranky old party pooper, everyone hates the games. One or maybe two can be fun, but I've been to showers where we were made to play upwards of five different games and, frankly, we all just wanted to go home. But everyone likes Shower Bingo, because it takes place during the gift-opening and therefore takes no time away from the eating or socializing. So! Shower Bingo and that's it.
But as much fun as the shower was this is how the day ended: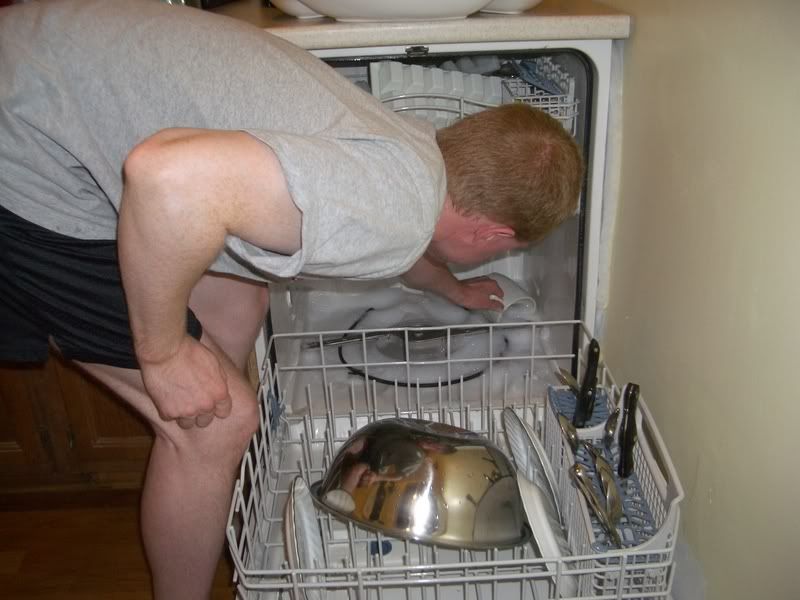 Why? Well, we ran out of dishwasher detergent yesterday, so I bought some more.
I swear it was
right next to
the Cascade.
TM