Those of you who are
Swistle
fans (which, thanks to the
INTERNET PHENOMENON
that is The Chicken Game, are now approximately two thirds of my readers) know that Swistle has been on a
kick to buy fun stuff
kick to save the environment and has converted to
cloth napkins.
Of all sorts, in fact, but here I am referring to the DINNER napkins. You will also know that she has sent out several care packages of said napkins to the lucky commenters chosen by the fickle Random Number Generator. Sadly, I was not among those lucky few.
However! A few days after her napkin contest, Swistle posted about buying even more cloth napkins. Later that day, she emailed me to request my address which I happily provided. And a few days after THAT, a package arrived at my door! And you will NEVER GUESS who sent it! I certainly had no idea. Truly. No idea whatsoever. "Oh! A package!" I said. "I wonder who it is from!" And when I saw it was from Swistle Thistle, I was completely shocked. "Swistle sent me a package!" I said. And then, because sometimes I am not so bright, I said, "I wonder what is inside!" (I said all of these things to Jack, just so you know that I am not dumb AND crazy. Had I been by myself when I opened the door, I probably would only have thought these things. Probably.)
Do you want to know what was inside? Yes! Cloth napkins! I KNOW. I was also stunned. (There was also a Mr. Pickles inside, but I knew he'd be there, whatever else there was.)
Swistle's package totally made my day, which had been kind of terrible until that point, and it was only made nicer by the fact that the package was a complete and utter surprise in every way. Moral: Sometimes, it is an advantage to be a little on the slow side.
I took a picture of the Swistle napkins and also of the napkins and napkin rings that I bought for myself. The
FOUR napkin rings that were left at Kohl's the day I was there,
might I add. Only four.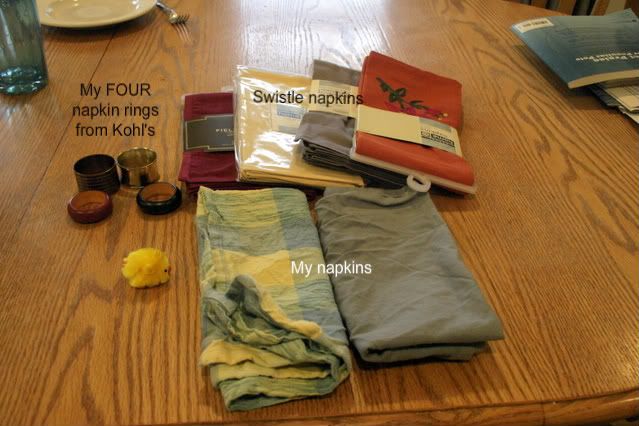 I never thought I would be the type of person who would be excited to find napkins that match the kitchen curtains, and yet, here I am.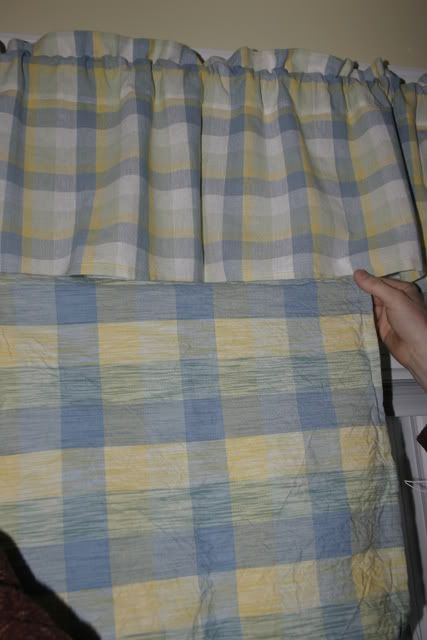 And while I'm posting photos, allow me to bring you
The Return of Nap Head:
And here's me, at 26 weeks. I am exploding.