I'm sorry for the lack of TCG updates, but for the past four days, Andrew, Mr. Pickles and I were a little preoccupied:
Yes! We finally, FINALLY painted our bedroom. I realize I started talking about this weeks and weeks ago, but there was a delay. "A delay?" you are saying. "
A delay in
a
home improvement project?"
I know. I was stunned as well.
This particular delay was caused by, of all things, the duvet cover. I ordered one from West Elm
back at the beginning of January,
but then I had to wait until it arrived before I could choose a paint color. Unfortunately, it was back ordered. Fortunately, it was back ordered for only two weeks! Unfortunately, after two weeks, West Elm emailed me to say they were so sorry, but the duvet cover was back ordered even further. Fortunately, only for two weeks!
And so it went. I was reminded of the time Andrew and I were waiting in an airport for our flight, and every twenty minutes they announced that the plane was delayed for twenty more minutes. After the third or fourth twenty-minute delay announcement, I overheard the ticket agent comment to her friend that the plane that was supposed to have taken off from New Jersey with us inside had not actually left Boston yet. Needless to say, we did not leave twenty minutes later.
But this time, I did not fall for it. After only the second delay of "two weeks," I cancelled my order. I did not have time to wait for the cotton to be grown and harvested. (Note: this duvet cover isn't even on their website anymore.) So I ordered another one, and after a few other boring scheduling delays, we were finally able to PAINT THE BEDROOM!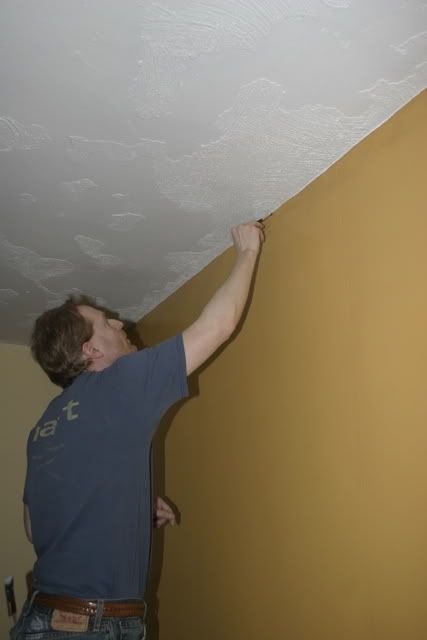 Andrew was distressed at the size of the paintbrush I gave him:
Oh, hush. He only used that one to fix up the edges, and it only took ten minutes.
But no matter how much painting we do – and we do a lot – we are still very bad at estimating how long it will take. We primed on Friday, and it went so well, we were done for the day by 6:00. This made us think we'd be able to paint everything, put the room back together, AND go buy Jack a new mattress, all before 8:00!
Yeah, not so much. Instead, we painted and painted and painted and Andrew finally made me stop at 9:30 with half the baseboard and one window still not finished. Thus, we spent Sunday painting some more and putting the room back together. Naturally, there were delays – issues with the ceiling fan wiring. But we finally finished.
So while the weekend itself was sort of awful what with all the hard physical labor and all, it was worth it. I don't have any before pictures handy because we forgot to take them, but believe me when I tell you, the before pictures were awful. Awful awful awful. It was the bedroom version of our old kitchen: peeling, dingy wallpaper, crumbling ceiling plaster, and a grimy, disgusting ceiling fan.
And now it is… better. We still need curtains and pictures on the walls, but here's what we've got so far: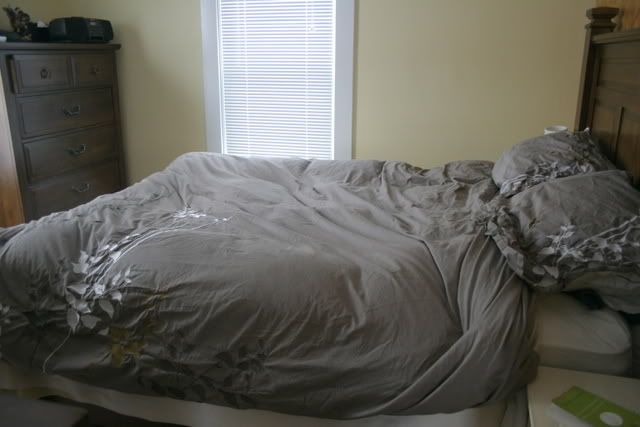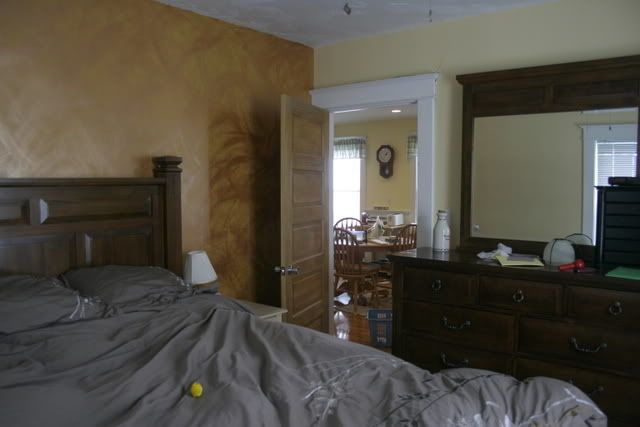 Mr. Pickles approves.
****
Speaking of Mr. Pickles, let me address a few more questions you have. Yes, there are three sizes of chickens. The middle sized ones are Mr. Pickles. The tiny ones are Mr. Pickles's brother, Mr. Pickles. The giant ones don't have a name, because they didn't exist (or at least I didn't have any) when The Doktah and I named the chickens, but if you want to buy those, feel free to go ahead and call them Mr. Pickles. Do not over-think things! (But I can't condone a dinosaur covered in feathers, because that would be The Dinosaur Game. However, The Dinosaur Game is probably equally fun.)