So did you all have a nice Christmas? I had a nice Christmas. I got a Kindle! It is totally awesome. I had been avoiding purchasing one because I was afraid that I would immediately spend thousands of dollars on books, because each one is so cheap! And all I have to do to buy it is push this button! But so far, I've only bought Mockingjay which I'd had on request at the library for weeks and which naturally arrived for me about thirty seconds after I bought it. I also bought Scrabble, because did you know you could play Scrabble on the Kindle? It's excellent, because I have no one to play with. Andrew won't play with me because he gets too mad when I slaughter him, which I routinely do. I don't mean to brag*, but I'm pretty amazing at Scrabble.
What really helps with keeping the Kindle costs down is the plethora of free books available. They're mostly old books that are out of copyright, several of which I downloaded with excellent intentions but which I will probably never read, thanks to Scrabble. I also got a newer book that was free because of some promotion, but it's pretty terrible, and I may not finish it. We shall see.
More significantly, the Anne Shirley books by L.M. Montgomery are also free, and I have happily been rereading the ones I no longer own and sort of forget a little. But if you follow me on Twitter, you already know that for some mysterious reason, Amazon's Kindle store doesn't have two of the novels. I may have talked about this on Twitter quite a bit. I may have been fairly outraged. But it is outrageous! The Kindle store seems to think I have IMAGINED
Anne of Windy Poplars
and
Anne of Ingleside
. I even got to the point where I was willing to pay for
Anne of Ingleside
, but even the collection of "all eight Anne Shirley novels" you can buy in the Kindle store for 99 cents doesn't include them. Instead, the collection includes
Chronicles of Avonlea
and
Further Chronicles of Avonlea
. These, my friends, are not "Anne Shirley novels." These are not even
novels
. They are anthologies, and, OK, yes, Anne makes a cameo appearance in a few of the stories, but that in no way makes up for the fact that the Kindle store is pretending
Anne of Ingleside
and
Anne of Windy Poplars
didn't happen. THEY HAPPENED, Kindle store. Do not MESS with my Anne of Green Gables books.
But I digress.
I also got a wall-mounted radio for the kitchen to replace my under-cabinet one with a broken CD player and completely snapped off power and volume-down buttons. The broken one was technically more than sufficient, since all I ever listen to is NPR and the remote turns it on and off, but it sure is nice to have a shiny new one with far better sound quality. Really shows off the timber of Carl Kassel's rumbling baritone, you know?
Andrew, on the other hand, got a selection of the geekiest, nerdiest Christmas presents ever known to man. From me. And he loves them all. His "big" gift, the gift that I knew he'd be most excited about, was a TI-85 graphing calculator. Andrew's original TI-85, the one he had in college, broke a few years ago. Since the TI-85 has been discontinued, Andrew thought he was out of luck. But then I
blogged about it
, and
Arwen's
husband Bryan
gave him his
. Ah, the magic of the internet. (Well, the magic of the internet plus the magic of being internet friends with thoughtful, generous people.) Sadly, Andrew spilled Chinese food on Bryan's a few months ago, and it broke. Andrew has been bereft ever since. Bereft, I tell you. Where was he supposed to store his variables? Fortunately, I had a brainwave a few weeks before Christmas and harnessed the magic of the internet once again and bought him one on Ebay. Best Christmas present ever. The only thing missing, it turned out, was the manual. I got that for him off Ebay after Christmas, and the day it arrived, I found this scene on my way to bed: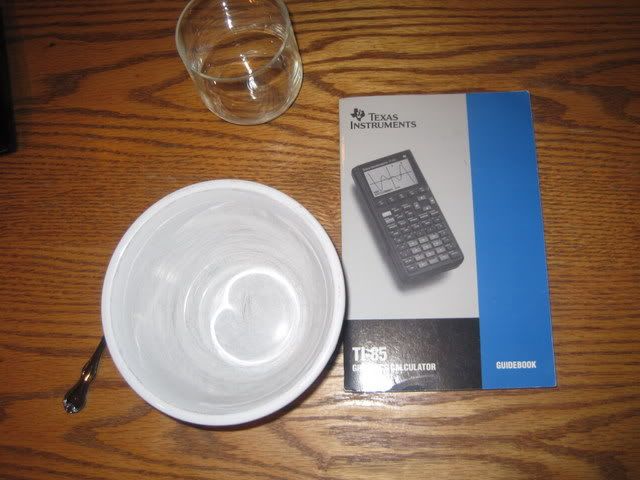 So what's geekier? The way he lays out his breakfast along with his breakfast reading before he goes to bed? Or the fact that his breakfast reading is a CALCULATOR MANUAL?
If you check back a few paragraphs however, you'll note that I claimed Andrew got a selection of geeky presents. You see, I had planned to write mainly about the calculator, but then I mentally ran through the list of gifts I got him, and it struck me as hilarious. So here you go:
1. A discontinued graphing calculator
2.
A book about the elements
3.
A book about being a geeky dad
4. Socks
I know I've gone on for quite a while here, but I can't end this post without telling the internet about the set of tools my father-in-law bought for my four-year-old son. It included, among other things, a hammer, a saw, a screwdriver, and a hasp.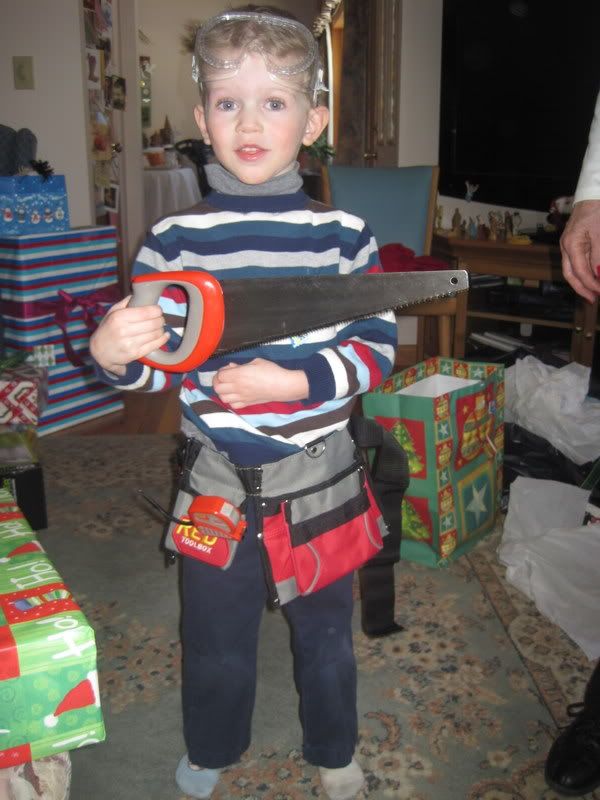 Despite my father-in-law's very indignant claim that "They're
plastic
," when we made fun of him, they are not, in fact, plastic. That there is a real saw. It is a small saw, yes. A child-sized saw, if you will. But a saw quite capable of cutting through wood – and therefore fingers – all the same.
Call us crazy, but we don't allow our children to play with sharpened metal blades until they are at least five.
*Yes, I do.