So hey! I ran a 10K yesterday!
Less than a mile in
My training has been going really well, so I originally had two lofty goals: Finish without stopping to walk and finish under 1:00:00. I didn't really think I could finish without walking at all given that I had to walk some of last week's 5.5-mile training run, but I've been regularly averaging 9:30 per mile, so I was really hoping to break an hour.
But then Nora was up all night on Saturday and would not let us put her back to bed. Andrew tried his valiant best to deal with her and let me sleep, but since neither of us could sleep through the screaming she ended up with me for the bulk of the night, nursing on and off. More on than off, if you want to know the truth, so I got maybe five hours of fitful sleep. Add to that the weather forecast of 80-degrees-and-muggy, and things were not looking good for me yesterday morning.
But Andrew let me take an hour's nap in the late morning (the race didn't start till 2:00), so I soldiered on with a small mental adjustment. New goal: Don't die. I added a new goal when I got to the starting line because the race turned out to be a pretty small townie event, and there were only about 100-200 runners. So. New goals: Don't die, and don't come in last.
And I didn't! I finished in 1:05. My personal stopwatch said 1:06, but the official clock said 1:05 when I ran by it, so that's what I'm going with. It wasn't under an hour, and I definitely walked, but I didn't die, and there were… a few people behind me. Maybe ten? Not more than twenty. But the important thing here is that SOMEONE ELSE was last. Maybe someone with an ankle injury, or whose baby only allowed her three hours of fitful sleep.
The home stretch. Can you spot the other two women who bought their running clothes at Target? (Hint: I'm giving one of them the thumbs up.)
When I signed up for the race two months ago, I saw there was also a Family Fun Run. They had one of those at the Thanksgiving Race I ran, and it was age-divided so that the four-and-unders only ran 100 yards, but the website for this race didn't list the distance. I emailed the race organizers, and they assured me that it was for anyone! Sure, sign up the three-year-old! So imagine my surprise when, as I was picking up our bibs, I learned that there were no age divisions and the Fun Run was a mile. A mile! He's three!
Jack has been really looking forward to this race. He's been talking about it for awhile. "I have to practice for my race!" and "Will I get a medal, Mom?" I was afraid he'd be so disappointed not to be able to finish. Andrew and I told him it was going to be pretty long, so just do the best he could and if he had to walk or stop, that was fine.
Well guess what. He finished. Andrew ran with him and Nora and I waited at the finish line. It took them about fifteen minutes, and Andrew reported that he only had to carry him for a couple of yards.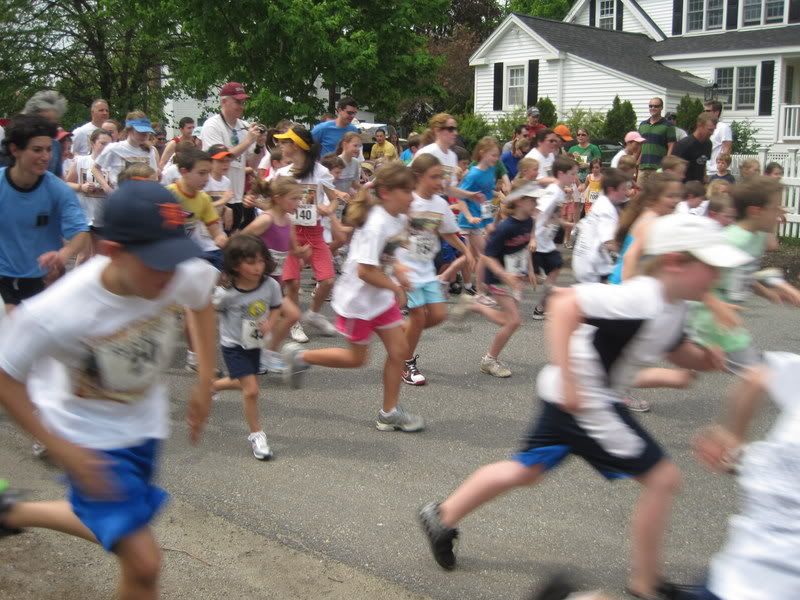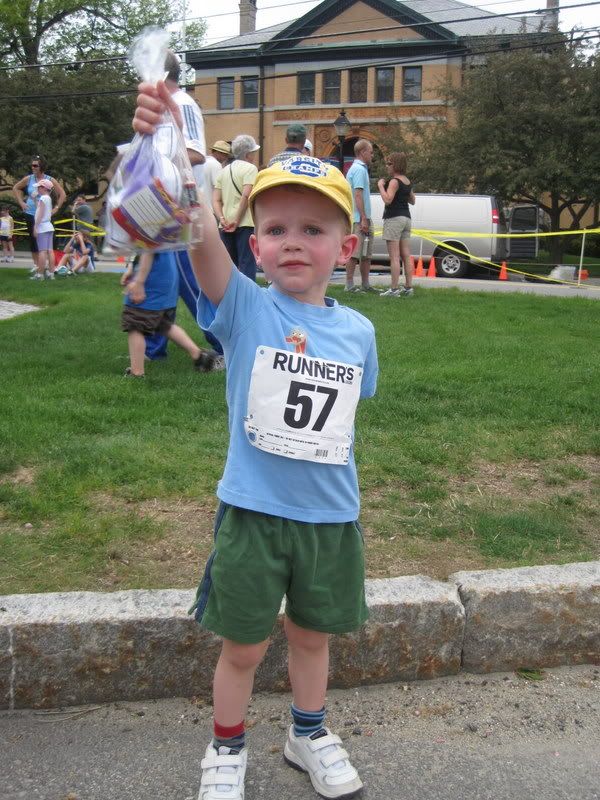 I got something BETTER than a medal, Mom! Candy!
A mile. My three-year-old ran A MILE. In an outfit he picked out himself, for the record.
We are so proud of each other.